Are you thinking about selling your house? Selling your house, apartment, or commercial property, its a nerve-wracking experience for most of us. Wanting to sell your house quickly, and just "getting on with" the process is often a priority. However, should you use more than one estate agent to sell your home?
Whether you have a property for sale in Bootle or have put a couple of houses for sale in Netherton on the market, you are probably anxious to sell fast. Should you use several estate agents in Waterloo or just one?
Better Service With One Estate Agent
There are many advantages to listing your home with only one estate agent. First of all, you need to consider the practicalities of listing your home with more than one agent.
Who is going to show your home? Using multiple estate agents often means more viewings, but that does not mean quality viewings. Don't worry, we will explain the concept of quality viewings later in this article.
When you list your home with one estate agent, arranging viewings is easier. You will have to take less time off work and only have one agent to worry about. Creating a good relationship with your estate agent should always be a top priority.
He, or she, can help you with viewings and give you more personalised advice when it comes to top tips to sell your home faster.
Lower Proceeds With Multi-Estate Agency Agreement
Most estate agents in Waterloo are not happy to take on multi-agency agreements. They will do so at a push, but it often means they will charge a different rate of commission. A higher rate of commission clearly means that you are going to make less money from the sale of your house.
Shop around, but in general, you will find estate agents will charge a higher rate when you list your home with several estate agents.
At the end of the day, getting less money for the sale of your home is not really going to benefit you.
You may also find that different estate agents will come up with their own valuations. One may want to list your home at a lower price than the other to achieve a sale.
Also, your house turning up in several estate agents' windows or websites may smack of desperation. Are you really in such a hurry to sell your home? The result is often a lower offer. As a matter of fact, you are giving potential buyers a reason to make you a worse offer.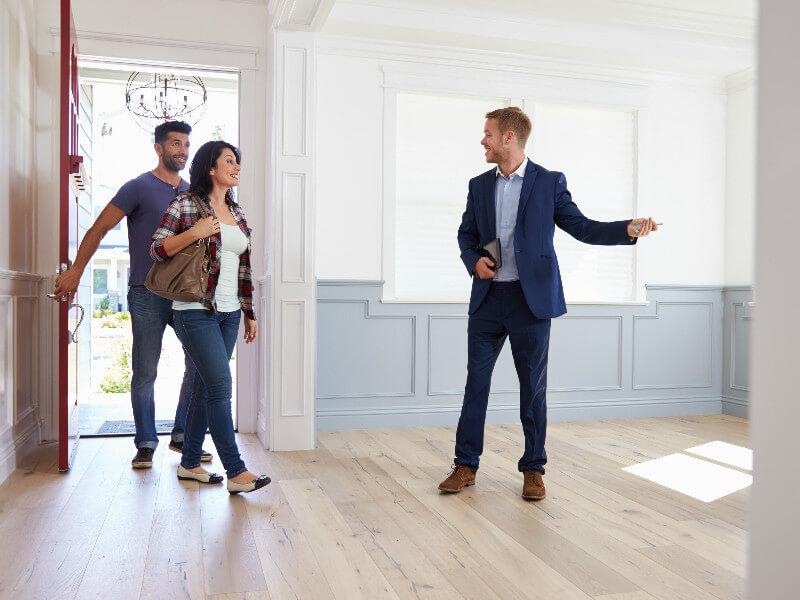 Quality Viewings Do Matter
When you first pick an estate agent to sell your house, make sure you choose the right one to suit your needs.
The ideal estate agent should know the local area and have experience of selling homes in your part of the town. If an estate agent does not have any other listings in your area, you should ask yourself why.
Be clear with your estate agent on what you expect. If you have a demanding job, you may not have a lot of time to take off work. Forming a good working relationship with one estate agent is easier to do than trying to make it work with multiple agents.
When your appointed estate agent understands your personal circumstances, he or she is much more likely to make sure you get quality viewings. Yes, it is the job of an estate agent to close the deal. But, sometimes, "selling" your needs to the estate agent and making sure your agent, understands them, is as important.
Quality viewings also go along way to make sure you achieve a better price for your home. You only achieve those when an estate agent knows you and the property you have for sale.
Going Online To Sell Your Home
What about listing your home with one of the new online estate agents? On the face of it, it may seem like a really good idea. But, when it all comes down to it, there are downsides to trying to sell your house using only an online estate agent.
You will personally be responsible for marketing your house. Are you up to that? Marketing your house is worth is weight in gold. Only a professional estate agent will know how to do that.
We are back to viewings again. Yes, you will need to arrange all of the viewings and attend them all personally
Selling tips. Most estate agents will want to sell your home quickly and are happy to give you advice and tips on how to do so. Perhaps your home could do with a lick of paint before you put it on the market.
Quality photographs are one of the top-selling tools. Are you sure you are up to taking your own photographs?
Local knowledge really does matter. Do you know all of the ins and outs of the local housing market and the benefit of living in your part of town? The needs of a new buyer are likely to vary from yours. Are you sure you can point them out to a potential buyer?
Property listed with a local estate agent sells faster.
These are just some of the reasons you are better off listing your house with a local estate agent than with an online estate agent.
When you have houses for sale in Bootle or houses for sale in Netherton, it is better to list your home with a local estate agent that you can have face to face contact with when you feel you need to.
Doing so will ensure that you have a better working relationship and your home is likely to sell much faster.
If you would like to know more about services offered by estate agents in Waterloo, please feel to get in touch. Although we do move around nationally much more than we used to do, most houses are still sold by local estate agents to local people.
This is another reason why it is better to list your house with just one estate agent rather than entering into complicated multi-agency agreements.